Deathspeaker Aggro
Constructed
Last updated 2 days ago
2

2

2

2

3

3

5

6

7
2

2

2

4

4

5

7
1

2

4

2

3

3

4

5

7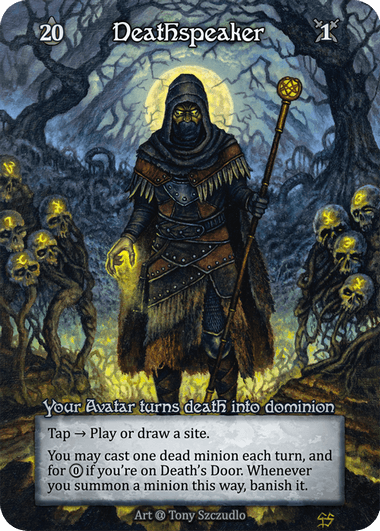 42 Spellbook / 20 Atlas / 10 Sideboard

0% cost
20% resource

56% cost
33% resource

0% cost
10% resource

44% cost
36% resource
@Metroidpikmin
13 days ago
This is a competitive deck, so the water is to counter bury effects and it give me water threshold to banish any water minions my opponent might have in the yard
Could replace drums with mask of mayhem, or just add mask.
Why the aquamarine and onyx core? Should they be ruby and amethyst?
Bittersweet, I care more about the mana then the threshold, but it is for the same reason as the water and earth sites it is to cast stuff from my opponents cemetery not mine. Florple The deck does not do a lot of strikes so mask does not do as much as drums, with drums I can kill with the genesis of vile imp, mask cant do that
That makes sense. Why not add the colour out of space?
Don't really need it, I could, but I personally don't see the need. I also like to limit the number of water sites to not give a water deck the extra gas
All attacks count as strikes unless they are against sites, the mask is really good at clearing up big pools of enemy's.
Florple Mask is not good for what the deck is doing. most of my minions are 1 or 2 power, so drums is a better as they will trade with everything, mask will only let my stuff trade with 2 and 4. Also with drums vile imp's genesis will kill any minion, that wont happen with mask
Okay cool. Love the deck btw.