Full Sprint Battlemage (3 Color)
Constructed
Last updated 7 days ago


3
1

2

2

2

2

2

3

3

3

4

1

1

2

3

3

3

4

5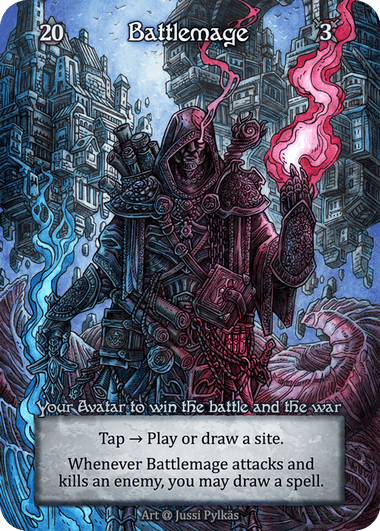 40 Spellbook / 20 Atlas / 10 Sideboard

25% cost
23% resource

35% cost
33% resource

0% cost
3% resource

39% cost
40% resource
hey cool deck thanks for the primer. was just curious what different cards you would play if you weren't limited by paper card constraints?
Crown of the Victor is very enticing, potentially Gigantism though threshold makes that scary, and arguably a second Chains in place of Cerberus though doggo is maybe too cool to cut.
Oh and potentially Browse, though again threshold makes that scary
UPDATE 8/22: Common sense dictates that I ought to play Common Sense. Also decided to cut Cloud City and Rift Valley to make threshold easier to hit with a full 9 duals and a Colour Out of Space, have to change sleeves though since my Colour is foil :P I'll miss my clear sleeves.
Update 11/12: -1 Minor Explosion for +1 Lightning Bolt. Found that the extra reach is useful in enough matches and the double fire threshold can sometimes be tricky. I've elected to keep the one Minor Explosion to play around stacking units.
Update 11/21: Remove one Font of Life and 1 Telekenesis from side to make room for 2 Divine Healing which should be more generally applicable. Signed up for the end of year Sorcery League Tournament so wish me luck!
What's the secret to a good deck in your opinion
Know what you find fun and make the most authentic version of that as you can. For example in this deck I get to play and enjoy the fantasy of being a (mostly) one man army. With that goal in mind I strive to find what cards most effectively allow for that gameplay to be expressed and in the end have found sufficient success. It certainly isn't the highest win rate Battlemage list you can find, but it delivers a very specific experience that is highly satisfying to execute. To be honest I'm not much of a deck builder, but that would be my advice.
Tldr: Common Sense, Grapple Shot
Also, you forgot crown of the victor
Don't own one but yeah, should be in here.