Deathspeaker
Constructed
Last updated 12 days ago
39294
1

4
2

2

2

2

2

3

6

6

7
1

2

2

2

2

4

5

7

1

3

3

3
7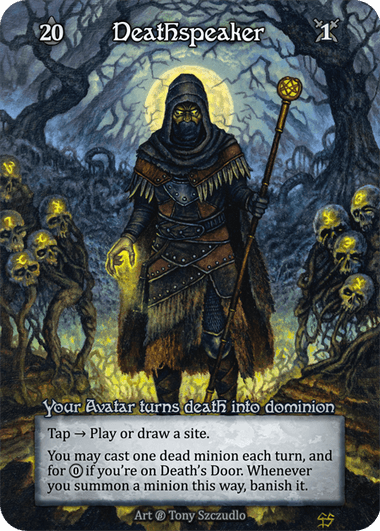 40 Spellbook / 20 Atlas / 8 Sideboard

8% cost
22% resource

38% cost
33% resource

0% cost
3% resource

53% cost
40% resource
@Scholar-at-Arms
17 days ago
Needs Crossroads to fix the site orde, or maybe just more Step;pes & Windmills. Not enough Earth in there for the Common Sense & Land Surveyors. Just faced this deck on TTS and my opponent was badly color-screwed.
Thanks for the info. I didn't know crossroads existed. I added 2 crossroads and 1 more steppe to hopefully ensure that I hit threshold. I honestly am considering removing earth entirely but common sense and land surveyors seem good.
Would replace earth with water to use boil and extinguish. Add tufted turtles and drums of Doom to combo. Colour out of space for threshold requirements is needed. Earth isn't doing any favors. Love the concept though and good luck.
Also add a primer, would like to see how you would play it.
I added Colour out of space to help with threshold and added boil to the sideboard as that's a perfect counter to water decks. I think I'm gonna stick to earth for now although that combo of the turtles and drums is pretty nasty. Definitely gonna use that for another deck. I also added a Primer.
Okay cool. If that's the path your going down I would add more earth cards as this is 22% resource. I would consider mountain giant but whatever works for you. I would like to one-day build a deathspeaker deck but I currently lack a deathspeaker.
Also you seem to lack migame cards so you should try to even the mana curve as you will be weak midgame
Mountain giant is just a little to costly for threshold and by that time in the game I can usually draw enough cards to get death dealer and completely control the board state. As for mid game I thought a similar thing when I first built the deck but I actually think it's better to keep costs low to be able to control the board in the mid game. Being able to cast an imp plus falconer or a small spell like fireballs to remove minions feels very strong. Most the time mid game with this deck if I can create space early is used to draw a lot of cards so during endgame I have all my win cons to close out the game.
I'm in the sorcery discord and my name is the same if you play TTS and wanna play some games at some point.