Battlemage Takes His Dog for a Voidwalk
Constructed
Last updated 14 days ago
2

2

2

2

3

3

4
1

2

2

2

3

3

5

2

3

3

4

5
Deck is incomplete.
- Sideboard above 10 card limit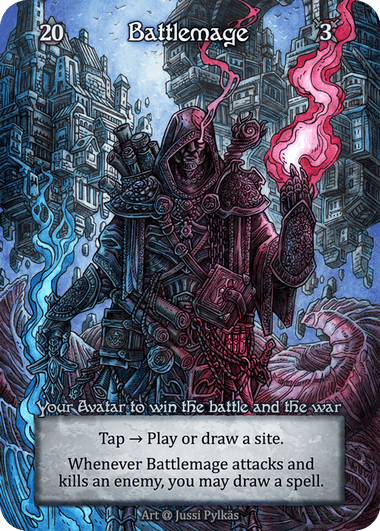 40 Spellbook / 20 Atlas / 12 Sideboard

0% cost
0% resource

18% cost
44% resource

0% cost
0% resource

81% cost
55% resource
This deck is awesome. May I suggest substituting Palliburrie Bats with more copies of Sacred Scarabs? I think that would make the deck more powerful since Sacred Scarabs have a higher potential for damage in one turn to take down larger threats. This would require splashing more fire sites in place of a few of the towers. Sites I would recommend are Vesuvius (for the synergy with battlemage's ability to kill units and draw cards), River of Flame (Never hurts to have another spellcaster), Dwarven forge (for the synergy with all of the artifacts that are used in the deck), and 2 copies of the astral alcazar for early void walking with the Battlemage. Additionally, if you want to lean into the theme of making the Battlemage a "juggernaut executioner killing machine", you could include some of the following artifacts: Spear of Destiny (allows the Battlemage to kill at any range), 1-3 Truesight Crossbow (gives the Battlemage range and ability to pick off enemies in stealth), 1-3 Poisonous Dagger (Lethal = free card draw), 1 more copy of Screaming Skull will synergize very well. Finally throwing in 1-2 Chains of Prometheus could make for an interesting "hate artifact" which will disable your opponents ability to cast spells if your Battlemage is near them (assuming that your Battlemage is up close and personal with their avatar). If you don't know where to make cuts I would suggest taking out minions and leaning into the gameplan of kitting up your Battlemage with artifacts and sending them across the field to attack your opponent's avatar. Thanks for the inspiring deck. I will use some of the same ideas when I create my own Battlemage deck.